Trilogy Repertory and Bernards Township Plays in the Park Present: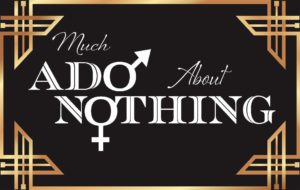 Audition Information:
Auditions are by appointment only and will be held May 22, May 24, and May 26 at the Bernards Township Community Center, 289 South Maple Avenue, Basking Ridge.
Sign up for an audition slot here. You also need to complete the audition info form here. 
The following roles are all available.
Lords
Leonato, the governor – 50s+, gregarious host and doting father
Antonio, Leonato's brother – 50s+, rickety of limb, but sharp of mind
Don Pedro, Prince – 30s-50s, both general and friend to his soldiers
*Claudio – 20s-30s, soldier returned from war, enamored with Hero
Benedick – 20s-30s, soldier, allergic to love, in an ongoing battle of wits with Beatrice
Ladies
Hero, Leonato's daughter – 20s-30s, enamored with Claudio
Beatrice, Leonato's niece – 20s-30s, in an ongoing battle of wits with Benedick
Margaret, attendant to Hero – 20s-40s, sharp tongue, questionable loyalties
*Ursula, attendant to Hero/ Sextant – 20s-40s, loyal friend/ county judge
Baddies
Don John, the prince's brother – 20s-50s, scheming, melancholic sort
*Borachio – 20s-50s, a soldier, Don John's closest compatriot
*Condrade/ Friar – 20s-50s, a soldier, friend of Don John/ fakes a death, as friars do
Local Yokels
*Dogberry, the local constable/ Soldier – 40s+, verbose and soused, couldn't hurt a fly
*Verges, Dogberry's partner/ Soldier – 30s+, the brains of the operation, such as it is
*Watchman/ Messenger – Teen+, local citizen/ messenger of the prince
*Watchman/ Balthasar – Teen+, local citizen/MUST SING,* ability to accompany self a bonus
*Actors of any gender will be considered for these roles.
You can find sides for all roles here. Please remember to bring your sides to the audition. 
Performance Dates: July 29, 30 and August 4-6
Questions? Call the producer, Hank Barre, at 908-872-6247 or email him at hbarre@aol.com.